1500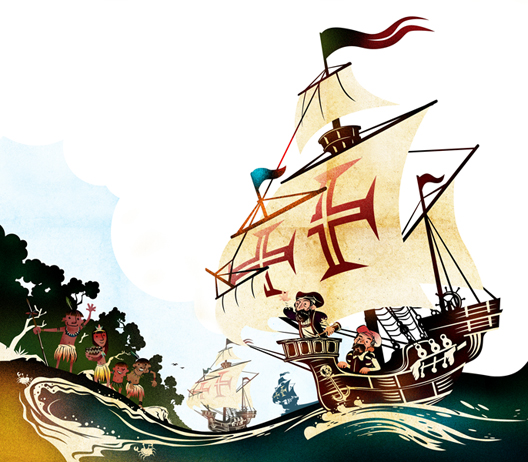 "1500
" é uma ilustração página-dupla, que abre um dos capítulo de um livro didático (História) da Editora Ática. O capítulo - "A Formação do Povo Brasileiro" - fala sobre o encontro entre índios e portugueses, num certo dia de um certo mês do ano 1500... Pensei em deixar a composição divertida, levemente exagerada, onde as caravelas parecem de brinquedo quando comparadas ao tamanho dos navegadores... E ainda tem uma espécie de "Easter Egg": Se você dobrar a página da esquerda de uma certa maneira, as mãos do índio e do português se encontram...
Mais ilustras:
silbachstation.com (em Português)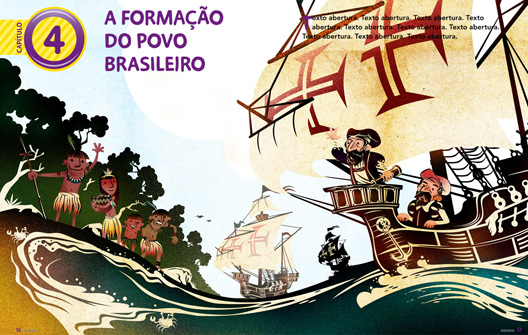 "1500" is a double spread illustration opening a History chapter from one of the educational books from Ática House. The chapter - "Formation of Brazillian People" - tell us about the first meeting between the natives and the Portuguese sailors on a sunny day in 1500. I tried to keep things fun and a little bit exaggerated, whre the ships look like toys specially when compared to the characters sizes... And there is a kind of "Easter Egg" in the illo as well: If you fold the the left page in a certain way (a la MAD magazine Fold In) it looks like the indian and the Portuguese are doing a high-five...

More illos at: silbachstation.com (in English)
Twitter
Flickr
Facebook
Marcadores: Didáticos, educational book, gallery 02, illos
Tweet