A Very Good Year

Aqui estou no meio desse interessante exercício que é pensar sobre os últimos 12 meses e escrever uma breve (espero) retrospectiva do ano 2010...! Tudo bem, então... Vamos lá...!
Muita coisa legal aconteceu esse ano! E muita coisa parece que não aconteceu em 2010 e sim há muito tempo atrás: Esse ano passou mesmo bem depressa!
-------------------------------------
Here I am in the middle of an interesting exercise: Thinking about the last twelve months and writing a brief (I hope!) retrospective of 2010...! OK... Let's go...!

A lot of great things happened this year! And a lot of things seems to belong to 2010 but to ages ago. Boy, how this year went by fast!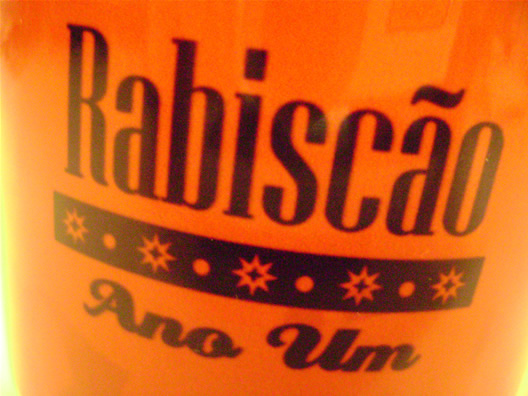 Em 2010,
o Rabiscão completou seu primeiro ano
. Durante a festa de aniversário do Encontro de Ilustradores de Brasília pude conhecer o incrível trabalho das
Papeleiras
que criaram o
Grande Livro do Rabiscão
com os nossos sketches produzidos durante cada encontro. Em cada página daquele livrão está um pouco da história desse encontro, que dá trabalho para mim, pro
Werley
e para o
André
mas que é sempre gratificante. Como sempre digo, é bom demais encontrar outros ilustradores para conversar e trocar idéias. Ilustração é uma profissão solitária... A gente precisa sair da toca de vez em quando, ha ha...! A presença de cada um de vocês fortalece e beneficia a todos nós! Espero encontrá-los pessoamente em 2011 e que possamos preencher o próximo volume do Big Book :0)
-------------------------------------
In 2010 we had the first anniversary of the Rabiscão - a gathering of illustrators that takes place every month here in Brasilia! Being an illustrator is sometimes lonely and the Rabiscão is all about meeting another fellow illustrators to chat and sketch all night long...! And our sketches were transformed by the talented young women known as As Papeleiras into a beautiful book: The Big Book of Rabiscão!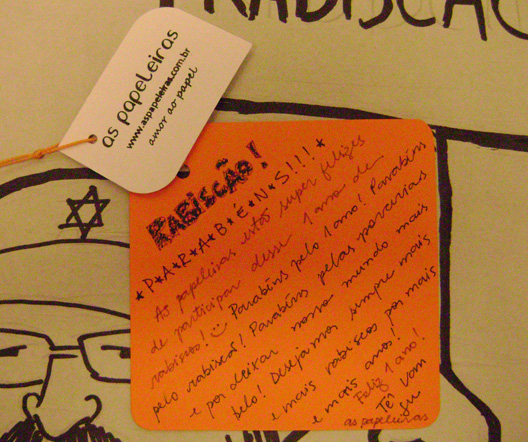 E por falar em encontrar pessoalmente, esse ano o Rabiscão contou com a participação de ilustradores de fora de Brasília que, mesmo não podendo comparecer pessoalmente, deram uma força aceitando ilustrar - cada um com seu estilo e sensibilidades únicos - a "Caneca Mágica do Rabiscão":
Samuel Casal
,
Anna Anjos
,
Hiro Kawahara
e
Lupe Vasconcelos
. Obrigado de coração!
Você pode ver imagens das canecas no
Blog do Rabisdog
.
-------------------------------------
And we were honored by the contribution of illustrators from outside town! Those talented artists accepted our invitation to illustrate our "Magical Mug" so even far away from Brasília they became part of the Rabiscão. Many thanks to: Samuel Casal, Anna Anjos, Hiro Kawahara and Lupe Vasconcelos.

(If you reading this text in English, chances are you are not in Brazil... But, if you are an illustrator - or love illustration - and someday decide to visit Brazil... Well, don't forget to include going to the Rabiscão in your "to do" list!)
E o gráfico indicador do nível de felicidade em 2010 alcançou seu nível máximo com a chegada da minha filhota! Estou curtindo cada segundo e lembrei que na minha
entrevista para a Revista Ilustrar
eu já me perguntava o quanto ser pai de uma menininha iria afetar meu trabalho... Bom, digamos que as "cores de menina" definitivamente foram incorporadas, adoro aplicá-las sempre que possível. Sim, minha pituquinha definitivamente está lá,
como contaria meses depois na seção Fresh, da Communication Arts
...!
-------------------------------------
Happiness levels went sky high in 2010: My daughter was born in May! Each second with her is a blessing and I just remembered my interview to Ilustrar Magazine where I wondered how my work would be changed by being a father of a baby girl... Well, "girlie colors" is definitely in! As I said to Communication Arts, my little baby is a source of great influence and inspiration!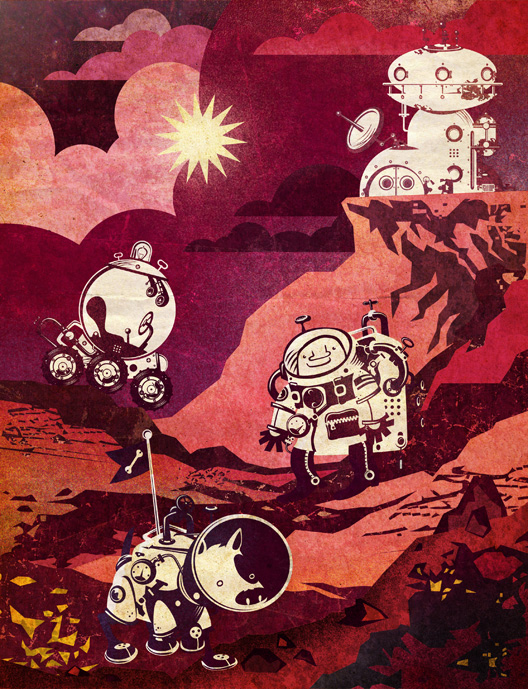 O "raivoso planeta vermelho" está mais rosado e simpático em
"Walking on Mars"
, criado para a
Mars Society
e usado para divulgar o
livro de colorir "Exploring Mars"
(Ilustrado por mim juntamente com alguns dos talentosos membros da
Autumn Society
).
-------------------------------------
The "angry red planet" is more pinky and friendly in "Walking on Mars", illo created for the Mars Society and also for the awesome children coloring book "Exploring Mars" (Featuring illustrations of many of the talented artists of the Autumn Society).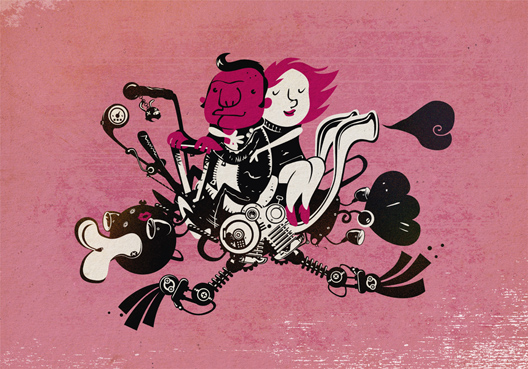 E minha
série Bird-Bikes
(mais no próximo ano... aguardem!) ganhou uma peça rosa que está aparecendo muito além desse blog:
"Fun Fun Fun"
(sim, o mesmo título daquela música dos Beach Boys) fez parte da exposição
IlustraBrasil!7
, a aguardada exposição anual da
SIB: Sociedade dos Ilustradores do Brasil
. E também está à venda no site da
Urban Arts
, na forma de poster montado ou enrolado (dica: peça montado, pronto para pendurar na parede).
-------------------------------------
My Bird-Bikes Series (more to come in 2011... Please, be patient...!) got a pink character that is showing up beyond this little blog: "Fun Fun Fun" (yes, from the eponymous song by The Beach Boys) was part of IlustraBrasil!7, the most important illustration show in Brazil and organized by SIB (Brazilian Illustrators Society).

Also, "Fun Fun Fun" is available in print form by the good folks at Urban Arts! Now you can put one of my works on your wall!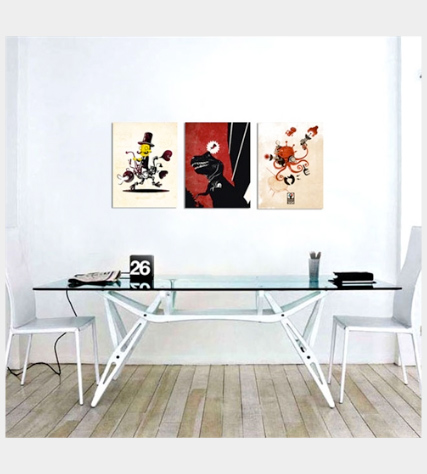 E não apenas posters estão disponíveis... Meu trabalho também pode ser encontrado na forma de adesivos decorativos na
Marcantte Adesivos Decorativos
. Então é possível combinar na mesma parede adesivos da Marcante e posters da Urban Arts e ter a casa mais incrível do mundo!
-------------------------------------
You can have not only posters but decorative stickers (available at Marcante) as well...! Now you can combine posters and stickers and transform your living room in the coolest living room in your neighborhood!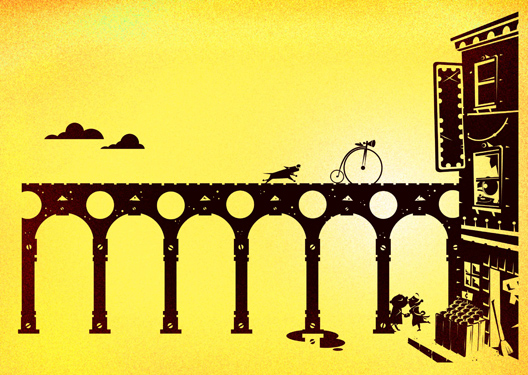 Mas se a grana está apertada... Bom... Temos o download grátis dos meus
paper toys
! Esse ano a série Speakerdog chegou ao fim, mas o meu paper toy
Claw 6! continua disponível aqui
.
-------------------------------------
But if your are on tight budget... Well, you still can download my paper toys for free! This year the Speakerdog series came to an end, but Claw 6! is still available here!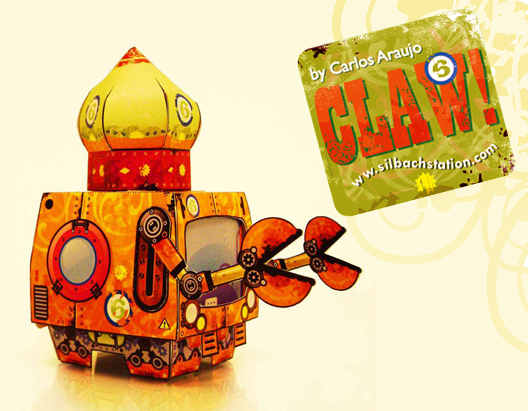 Outro "freebie" de 2010 são os
wallpapers para iPhone e iPod Touch
. Você tem 5 modelos para escolher. Ei! Você pode combinar adesivos, posters, paper toys e wallpaper para iPhone e iPod e... Ok, acho que já deu para entender, ha ha!
-------------------------------------
Another "freebie" are my iPhone and iPod Touch Wallpapers. There are five different images for you to choose. Hey! You can combine my posters, stickers, paper toys and iPhone and iPod Touch Wallpapers and have the coolest house in t... Ok, I think you got it, right?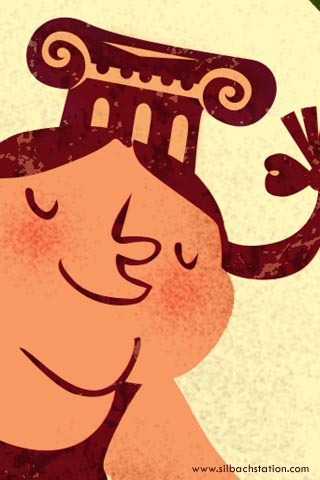 2010 chegando ao fim e no último trimestre, mais precisamente em Novembro, minha ilustração
"Rampage"
foi escolhida para fazer parte da
American Illustration 29
, que apresenta o melhor da ilustração no último ano!
-------------------------------------
In November, my illustration "Rampage" was chosen to be part of the American Illustration 29 featuring some of the best works in the last year illustration scene!
No mês seguinte, a
Creative Quarterly
anunciou o vencedores do CQ22, que será lançado no primeiro semestre de 2011. A ilustração escolhida foi
"Doggies"
... Interessante, tanto "Rampage" quanto "Doggies" tem um quê de Godzilla...! Humm...
-------------------------------------
In December, Creative Quarterly annouced the winners of CQ22, to be lauched in the first semester of 2011. The illustration chosen was "Doggies"... Interesting, both Rampage and Doggies have a kind of Godzilla fell I think...
"Na véspera da véspera de Natal", 2010 foi o ano da abertura da incrível exposição
Bonequinhos Viajantes
, reunindo mais de 80 artistas de todos os cantos do Brasil. Acontece no Rio de Janeiro, até 27 de Fevereiro do 2011!
-------------------------------------
In "the night before the night before Christmas" we had the opening of the awesome art show Bonequinhos Viajantes (Travelling Characters) featuring more than 80 artists from all corners of Brazil! The exposition takes place in Rio de Janeiro and you have until February 27 to check it out!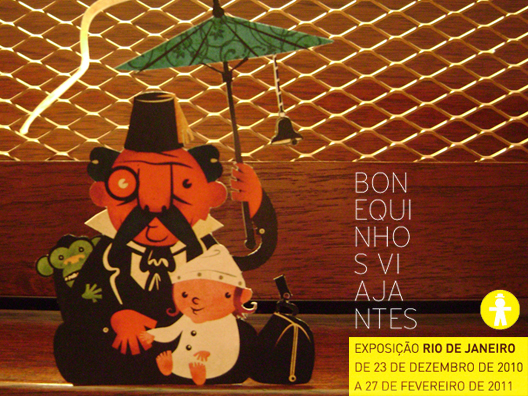 A retrospectiva vai chegando ao seu final... Tenho certeza que esqueci de falar aqui sobre um monte de outras coisas. 2010 foi muito, muito bom e espero que tenha sido igualmente repleto de alegrias para todos. Mas... Se por um acaso, sei lá... O ano que passou não tenha sido tão memorável assim... Ei, sempre tem o próximo ano! Portanto, desejo a todos um maravilhoso 2011, que os sonhos se tornem realidade... realidade tão legal que pareça um sonho. O melhor ainda está por vir...!
-------------------------------------
This retrospective is near it end... I'm sure that I forgot to mention a lot of other important things. 2010 was a very, very good year (as Sinatra sang so well) and I sincerely hope that you had a blast too. But... If you think this year was "not that great"... Hey! We always have the next year, right? I end this post wishing you and your family and your friends a really wonderful year of 2011. May your dreams turn into reality and your reality feel like a dream. The best is yet to come!
Twitter
Flickr
Facebook
Labels: news
Tweet