Bonequinhos Viajantes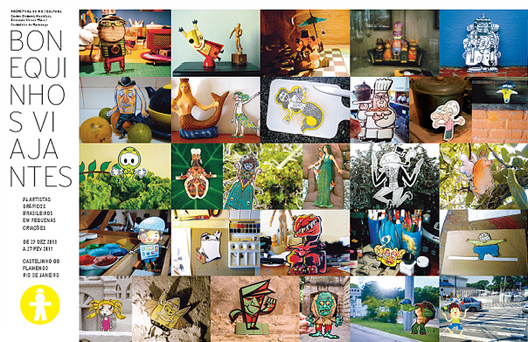 Estou participando do
"Bonequinhos Viajantes"
, uma exposição super legal que acontecerá no Rio de Janeiro a partir do dis 23! Organizado por Marcelo Martinez e Romero Cavalcanti, o projeto conta com a participação de mais de 80 artistas (ilustradores, quadrinistas, artistas plásticos, cartunistas e etc...) de todos os cantos do país. Cada participante contribuiu com um bonequinho e uma foto do personagem em seu "habitat natural".
-------------------------------------
I'm one of the artists invited to be part of a very cool exposition called "Bonequinhos Viajantes" (translated from portuguese: "Traveling Characters") that will take place in Rio de Janeiro on December 23th! Marcelo Martinez e Romero Cavalcanti are the masterminds behind this wonderful project featuring more than 80 artists from the four corners of Brazil. Each artist created a character and also took a photo of the traveling character in his "natural habitat".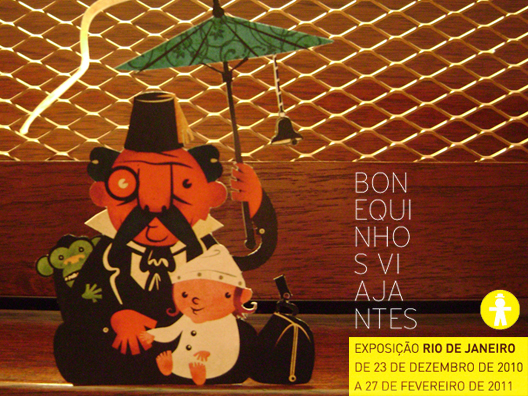 Acima um registro do meu personagem... Ou melhor, trio (Baby, Valdemar e Chimp)!
A galeria com as fotos de todos os bonequinhos pode ser conferida no site da exposição:
www.bonequinhosviajantes.com
-------------------------------------
Above you can see a pic of my traveling character... Actually I did three (Baby, Valdemar and Chimp)!

The galery with the photos of all travelling characters can be seen at the expo official web site: www.bonequinhosviajantes.com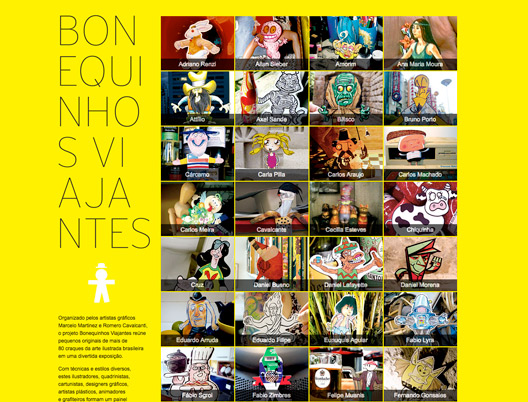 Foi muito divertido contribuir para esse projeto tão especial! Se você estiver no Rio de Janeiro, não deixe de conferir:
Exposição Bonequinhos Viajantes
Rio de Janeiro, Brasil
De 23 de Dezembro de 2010 a 27 de Fevereiro de 2011
Site oficial dos Bonequinhos Viajantes:
www.bonequinhosviajantes.com
Twitter do Bonequinhos Viajantes:
twitter.com/expoBonequinhos
Fotos do making of (flickr):
www.flickr.com/photos/expobonequinhos
-------------------------------------
I had a lot of fun creating this character for such a special project! If you are in Rio, be sure to check it out:

Bonequinhos Viajantes Exposition
Rio de Janeiro, Brazil
From December 23th 2010 to Febuary 27th 2011

Bonequinhos Viajantes official web site (in portuguese): www.bonequinhosviajantes.com
Bonequinhos Viajantes Twitter: twitter.com/expoBonequinhos
Photos of the "making of": www.flickr.com/photos/expobonequinhos

Marcadores: gallery 01, news, shows
Tweet