Propaganda! | Advertising Galore!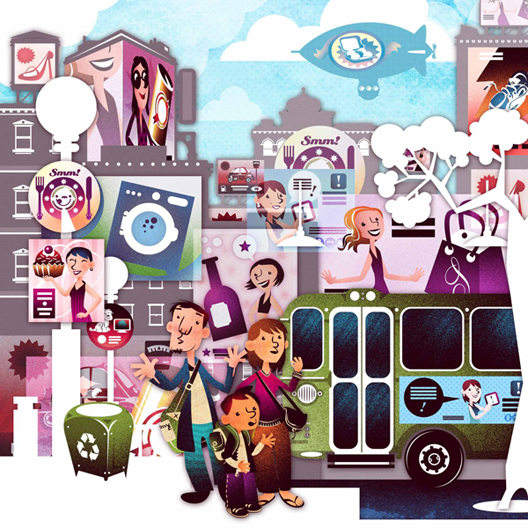 Acima, a primeira imagem no Spotlight de 2013:
"Propaganda!"
foi criada para servir de abertura para um capítulo de um dos livros didáticos da Editora Ática. O texto fala sobre... Bom... Fala sobre Propaganda, oras! Para essa ilustração, pensei em mostrar uma família chegando no centro de alguma cidade grande e cheia de lojas e promoções...
-------------------------------------
Here we have the first illo on the Spotlight: "Advertising Galore!" was made for an educational book from Ática Publishing House. I thought about this little family, just arrived to the big city (where the big brands are) and having to deal with an overwhelming amount of information...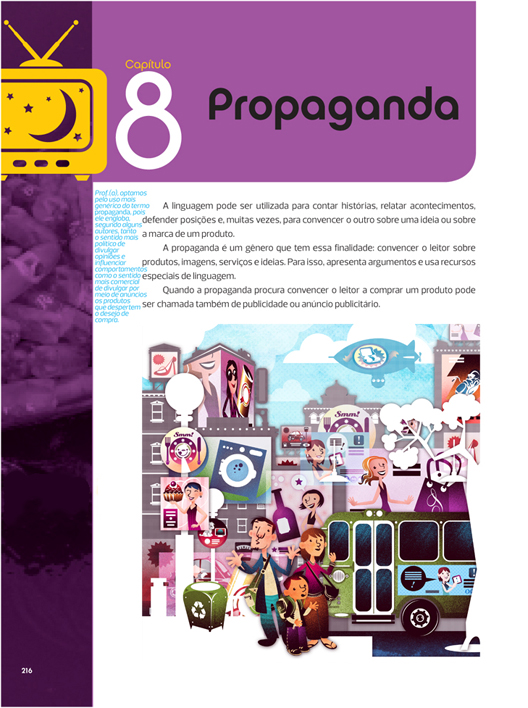 Busquei retratar os anúncios não apenas como mensagens visuais (outdoors, cartazes), mas também como eles ficam "impregnados" no subconsciente. Às vezes, temos que lidar com um excesso de informações... As mensagens se sobrepõem, se confundem, mal somos apresentados a um produto, outro aparece demandando a mesma atenção...
-------------------------------------
I tried to depict the ads not only as visual messages, but also tried to communicate how the ads get "stuck" into our brains... Messages are bright and loud and they overlap: There is too much information!

E aqui outra ilustração, do mesmo capítulo, para o texto "Consumir ou Resistir?"... Às vezes, tentar resistir parece ser enfrentar uma avalanche de tentações...! Ei...! Mas se o produto for ilustrado por mim, não resista e compre! Compre para os familiares também...! E para os amigos...! E não se esqueça do vizinho...!
-------------------------------------
Here we can check another illo for the book, in the same chapter about Adversiting: "Buy or Resist?"... Yeah... Sometimes, to resist the urge to buy is like face an avalanche made of temptations...! But, hey, if you find a product illustrated by me, don't resist and buy it! And buy another one for your family members... And for your friends...! And don't forget your neighbors...!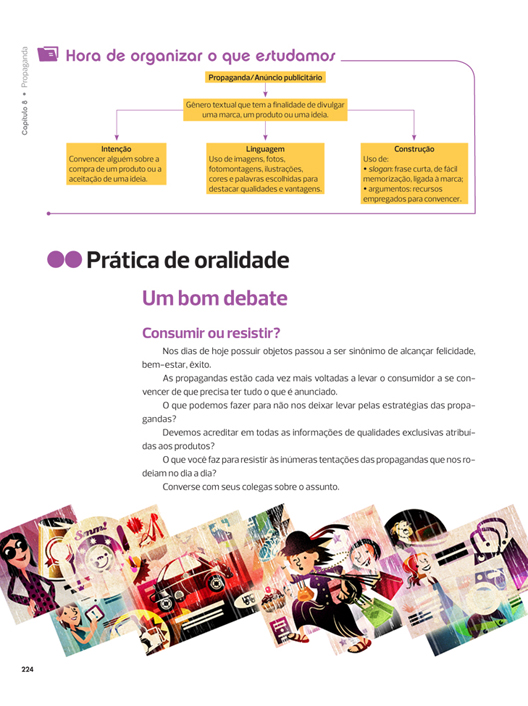 Mais ilustras:
silbachstation.com (em Português)
-------------------------------------
More illos at: silbachstation.com (in English)
Twitter
Flickr
Facebook
Marcadores: Didáticos, educational book, gallery 02, illos, spotlight
Tweet