#1 DIGI ARTS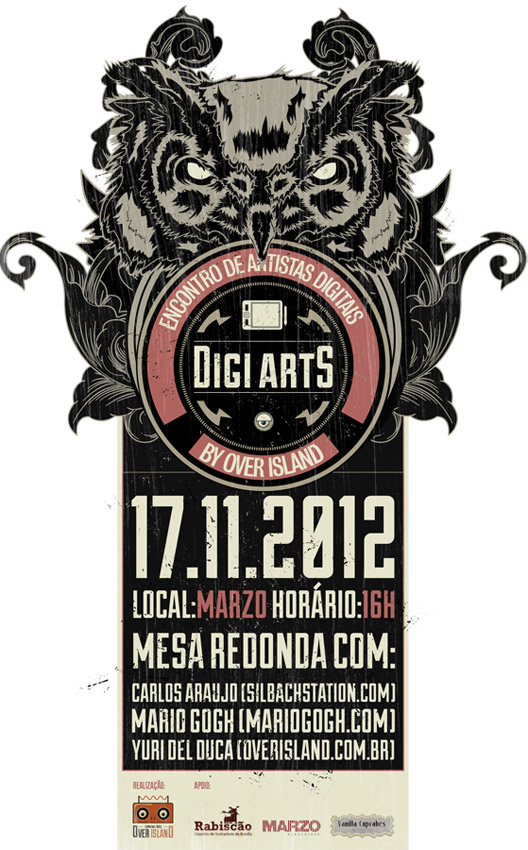 No próximo sábado, día 17 de Novembro, acontecerá o primeiro Digi Arts - Encontro de Artistas Digitais - um evento que tem como objetivo fortalecer o cenário de arte digital em Brasília.
Estarei participando da mesa redonda e da exposição, juntamente com Mario Gogh (Um dos responsáveis pelo nosso tradicional
Rabiscão Ilustrado
, Encontro de Ilustradores de Brasília) e Yuri del Duca (Da
Over Island
, empresa que produz camisetas e posters exclusivos e de tiragem limitada).
Além disso, irei falar um pouco sobre meu trabalho e carreira como ilustrador. Quem sabe não serve de inspiração para alguém que está sonhando em ilustrar também…
Anotem na agenda: Digi Arts - no dia 17 de Novembro, às 16h no Marzo Burger+Bar, 409 Sul. Nos vemos lá!
Mais ilustras:
silbachstation.com (em Português)
-------------------------------------
On November 17th, Digi Arts will make its debut. Its an event to promote digital art and artists in Brasília. I was invited to talk a little bit about my work and career... Maybe it will be inspiring to one or two people in the audience with dreams of becoming an illustrator too... Who knows?
More illos at: silbachstation.com (in English)
Twitter
Flickr
Facebook
Labels: news
Tweet