Diálogo Argumentativo | An Argumentative Dialogue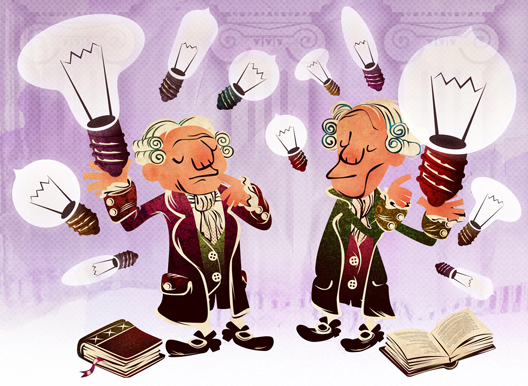 A ilustração acima foi criada para uma série de didáticos da Editora Ática. O capítulo - "Crônica com Diálogo Argumentativo" - fala sobre "defender idéias" e "sustentar opiniões" através de do diálogo e da argumentação. Então, fiz essa dupla opinando sobre idéias... um tanto avançadas para seu tempo...!
Mais ilustras:
silbachstation.com (em Português)
-------------------------------------
The illustration above was created for a series for educational books from Ática House. It went with a chapter about "Argumentative Dialogue". I thought it would be nice to show the two philosophers characters talking about ideas quite advanced for their own time...
More illos at: silbachstation.com (in English)
Twitter
Flickr
Facebook
Marcadores: Didáticos, educational book, gallery 02, illos
Tweet