Reunião de Poetas / Poets Reunion

Uma ilustração (página dupla) para um livro didático da Editora Ática:
"Poetas"
abre um capítulo sobre... bom... poemas! E também sobre as imagens e cenários que um poema pode criar... Então aí temos quatro poetas e seus versos que invocam imagens que parecem saltar das páginas (Meu preferido é o poema do balé do ganso com o pit bull)!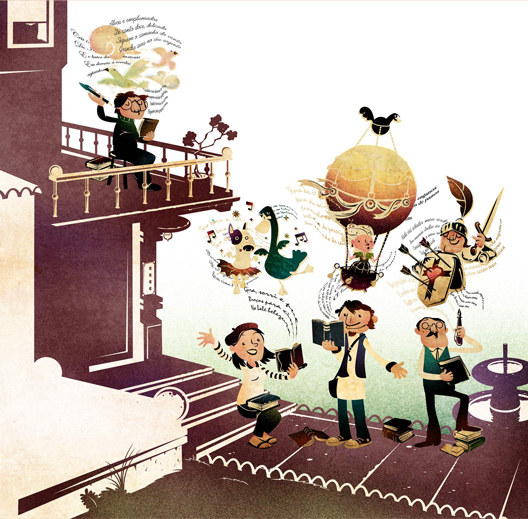 A two page spread illo opening a chapter about poems in a educational book published by Ática House. The text talks about how poets can create images using only their verses...! So here we can see a group of poets and their poems coming to live (My favorite is the poem about the goose and the pit bull dacing ballet)!

Bellow, a detail from the illustration... It is possible to read a little bit of the poems (in Portuguese, anyway) but not too much, I hope!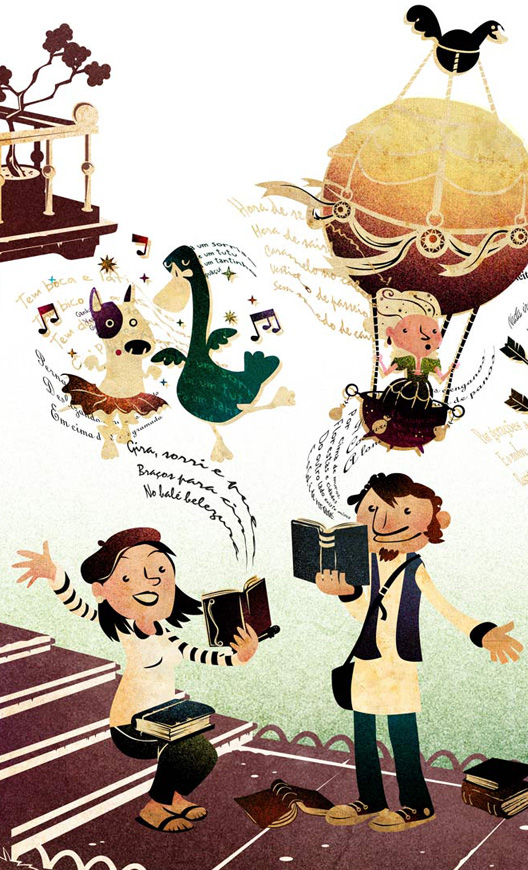 Acima, um detalhe da ilustração... Dá até para ler um pouquinho dos versos... Mas não muito, espero!
Abaixo, a ilustração dentro do layout, abrindo o capítulo sobre poemas... Um trabalho semelhante pode ser visto
nesse post sobre Piratas
.
E mais ilustrações podem ser vistas no
meu portfolio (em Português)
!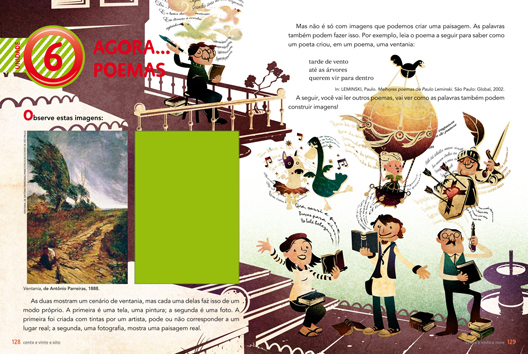 And finally the illustration in the double page layout... If you liked this Poetry Club check this previous post about Pirates too!

And - of course! - more illustration at my portfolio page (in English)!
-------------------------------------
Twitter
Flickr
Facebook
Marcadores: Didáticos, educational book, gallery 02, illos, spotlight
Tweet