10 Anos! / 10 Years!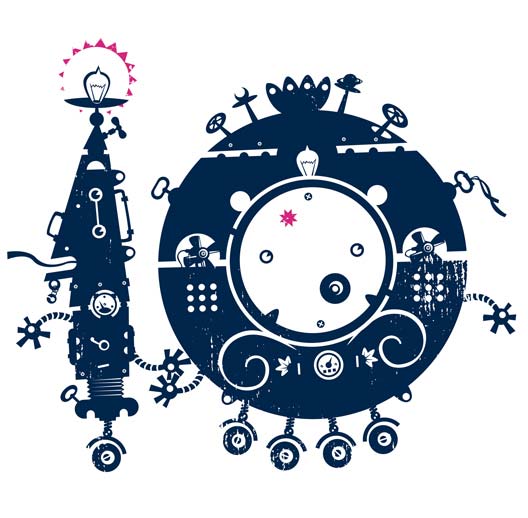 Ilustração para a exposição Ilustra Brasil 10. Mas aqui uso para representar os meus 10 anos...!
Illustration for Ilustra Brasil 10 Art Show. But here it represents my 10 years...!
Neste mês de Maio completo 10 anos como ilustrador! Dez anos de aventuras na minha "Jornada do Herói"… Digo, "Jornada do Ilustrador"! U-hu!
Bom, essa data é um pouco imprecisa… Antes de maio de 2008 eu trabalhava como designer. Um designer que podia oferecer ilustrações para o cliente, mas ainda assim um designer. Mas, depois de um tempo, fui percebendo que a parte que eu mais gostava de fazer nos projetos era quando envolvia ilustrações de algum tipo. Então decidi focar minha carreira em ilustração.
Em maio de 2008, reformulei meu portfolio e permaneceu apenas as ilustrações.
Naquele momento, eu era ilustrador "full-time".
Meu primeiro trabalho foi para a revista Info Corporate. Me recordo de estar um pouco ansioso: Era a minha primeira oportunidade e agora a responsabilidade estava em minhas mãos. Dependia de mim provar que eu era capaz de entregar. O cliente seguinte foi a revista Playboy (Uma série de ilustrações pequenas que desconfia que poucos leitores deram bola…. Afinal acompanhava a foto de uma mulher nua lindíssima…)…
Continuei em frente e ao longo do caminho ilustrei mais outras revistas, livros, cartilhas, albums, posters, toys e outros produtos ao redor do mundo… Meu trabalho também esteve em exposições nos Estados Unidos, China, Uruguay, Colombia, Inglaterra e Brasil. E tive a honra de ver minhas ilustrações incluídas em publicações importantes como, por exemplo, Revista Ilustrar, 3x3 Pro Show, American Illustration, Latin American Illustration e Luerzer's Special 200 Best Illustrators Worldwide.
Ah, ainda tenho muitas histórias que não cabem num post tão curto como esse...!
Apenas gostaria de agradecer de todo coração à minha família, aos amigos e colegas que me ajudaram e incentivaram durante esses anos todos…! Devo muito a todos vocês (Não vou citar nomes porque com certeza vou esquecer alguém...)... Nunca se sabe o que nos reserva o futuro, mas estou pronto para mais uma década! Abraços!
Mais ilustras:
silbachstation.com (em Português)
Facebook
|
Twitter
|
Instagram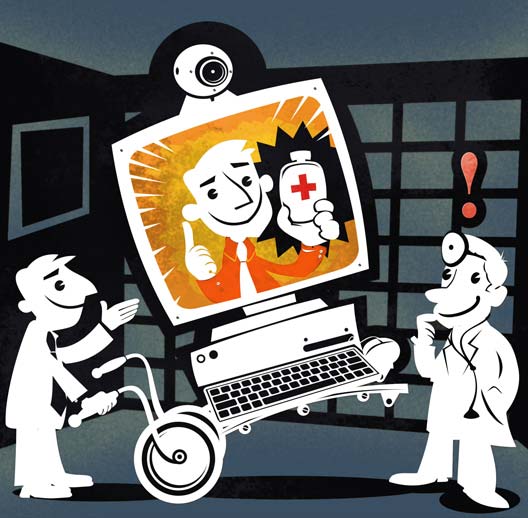 Ilustração para a revista Info Corporate.
Illustration for Info Corporate Magazine.
May 2018: I complete 10 years of being a professional illustrator! Ten years of adventures in my own Hero's… I mean… Illustrator's Journey. Hooray!
Of course, the date is not all that precise… Before May 2008, I presented myself as a designer by trade. A designer that also could create illustrations for my clients, but still a designer. But, after a couple of years, I realized that the fun part of my job was illustrating. So I decided to focus. In May 2008 I reworked my portfolio and kept only the illustrations section. From now on I was a "full-time" illustrator.
My first job as an illustrator was for Info Corporate, a Brazilian magazine. It was very exciting and I was very anxious: I got my first opportunity and now it was up to me to make this work…! After that came commissions from other magazines, the very next client was Playboy magazine (it was a small illustration that I suspect few people noticed because of the photo of a very gorgeous model next to it…!)…
I went forward by creating artwork for several other magazines and also for books, albums, posters, toys and many other products for clients all around the Globe… My work was also part of art shows in the U.S., China, Uruguay, Colombia, U.K., and Brazil. I had the honor to see my illustrations being featured in many important publications such as Ilustrar Magazine (the most important publication about illustration in Brazil), 3x3 Pro Show, American Illustration, Latin American Illustration and Luerzer's Special 200 Best Illustrators Worldwide.
Oh boy...! I have lots of great memories that I won't be able to fit in such a small post like this one...!
I would like to say "thank you" to my family, to my friends and colleagues for supporting me through all these years. You guys are in my heart always...!
Today, I'm still working as an illustrator and I'm looking forward to the next decade! Cheers!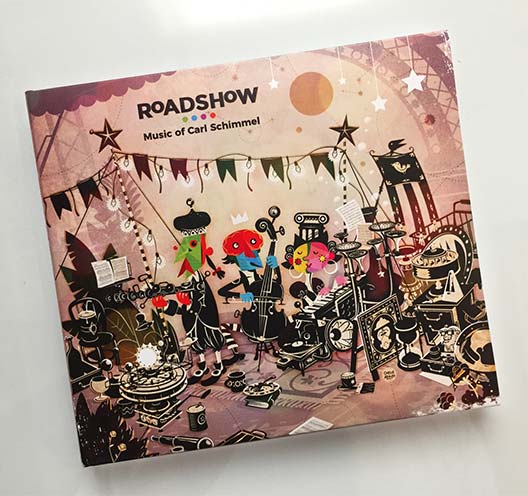 Um trabalho mais recente: Arte para o álbum "Roadshow" de Carl Schimmel.
A more recent work: Artwork for Carl Schimmel's album "Roadshow".
More illos at: silbachstation.com (in English)
Facebook
|
Twitter
|
Instagram
Marcadores: news
Tweet