Teatrinho de Crianças | A Kids Little Theater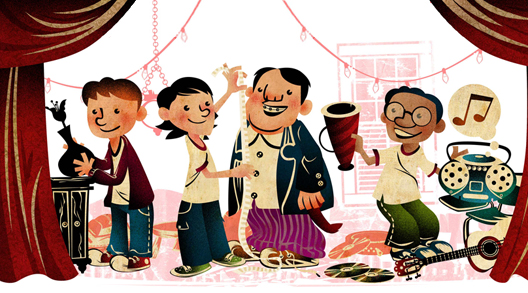 Ilustrações mostrando um grupo de alunos de uma escola preparando e encenando uma cena da peça "A Família e a Festa na Roça" de Martins Pena (o fundador da "comédia de costumes" no Brasil). Fazem parte de um livro didático de Literatura (Editora Ática), no capítulo sobre Texto Teatral.
-------------------------------------
A group of kids getting ready to perform in a school play... Illustrations created for a educational book from Ática Publishing House. This was a fun project because I had to show the kids producing their play and I got the opportunity to illustrate one of the scenes of the play.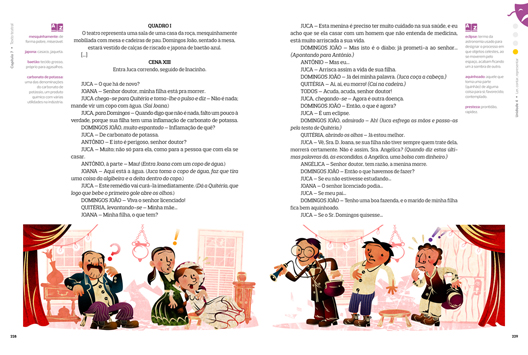 A peça - escrita e encenada no Brasil pela primeira vez no século XIX - conta a história da família de Domingos João, um fazendeiro que, encontrando-se quase falido, vê a oportunidade de aumentar suas posses casando a filha única, Quitéria, com Antônio do Pau-D'Alho, dono de "um sítio com seis escravos e muito trabalhador". Mas Quitéria ama Juca, um estudante de medicina, que também a ama e quer se casar com ela. Os dois enamorados criam um plano para escapar do casamento arranjado pelo pai da moça...
-------------------------------------
The play (A XIX Century comedy written by Martins Pena) tells us the story of Domingos Joao, a farmer who wants to marry his only daughter - Quiteria - to the rich Antonio. But Quiteria is in ove with Juca, a medical student, who also loves her and wants to marry her. To scape the fate imposed by Quiteria's father the lovers concoct a clever plan...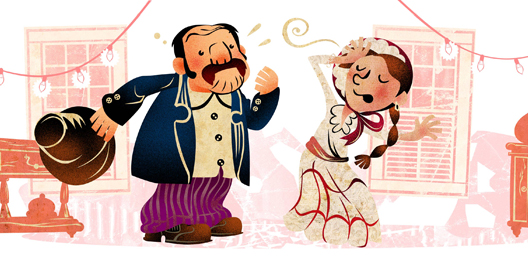 JUCA,
depois de pensar um momento
— Ouve: quando chegar o teu pretendido noivo, e falarem em casamento, finge-te doente, desmaia, treme; enfim, faze-te de doente, como uma mulher é capaz de fazer quando quer, e deixa o mais por minha conta.
Quitéria — O que queres fazer?
JUCA — Já te disse que deixes tudo por minha conta. Olha: ficas doente; naturalmente mandam-me chamar, e então arranjarei tudo (...)
-------------------------------------
JUCA, after thinking for a while - Listen: When your groom arrives and he and your father are talking about marriage you must pretend to be very ill...
Quitéria - What are you going to do?
JUCA - I told you: Leave it to me. When they see you ill they are going to call me... I will make things right for us (...)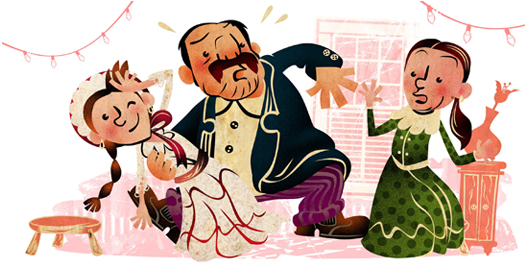 O plano é fazer com que Antônio Pau-D'Alho desista do casamento fazendo com que ele acredite que Quitéria é uma moça muito doente e que seria um estorvo e, ao mesmo tempo, convencer Domingos João de que o melhor para Quitéria é casar com alguém que entenda de medicina… Juca - que é estudante de medicina - se oferece para casar com Quitéria. O sucesso do plano depende do talento de Quitéria em desmaiar do jeito mais convincente possível diante dos pais e do noivo...
-------------------------------------
The plan is to convince Antonio to give up marring Quiteria by making he believe his bride is a very ill person and need constant medical attention. At the same time the couple will convince Quiteria's father that the best solution is marring her with a doctor... Juca himself.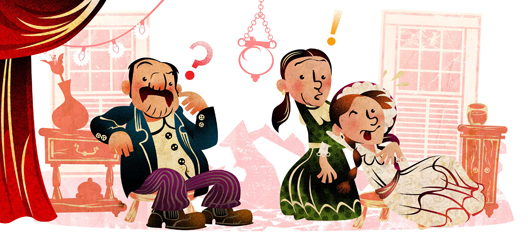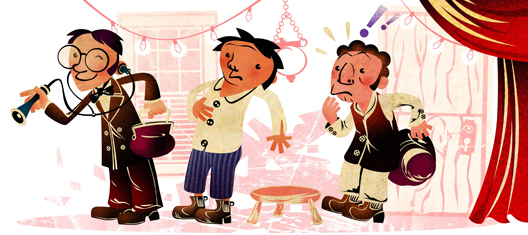 Abaixo, as crianças preparando a peça: Cenários, maquiagem, sonoplastia... Gostei muito do personagem no centro... Sem a maquiagem que o transforma no sizudo Domingos João, temos um simpático garoto de aparelho nos dentes...!
-------------------------------------
Bellow, the kids getting the play ready: I love how the character in the middle worked out... Without the make up transforming him into a stern farmer you see him as a young man still using braces...!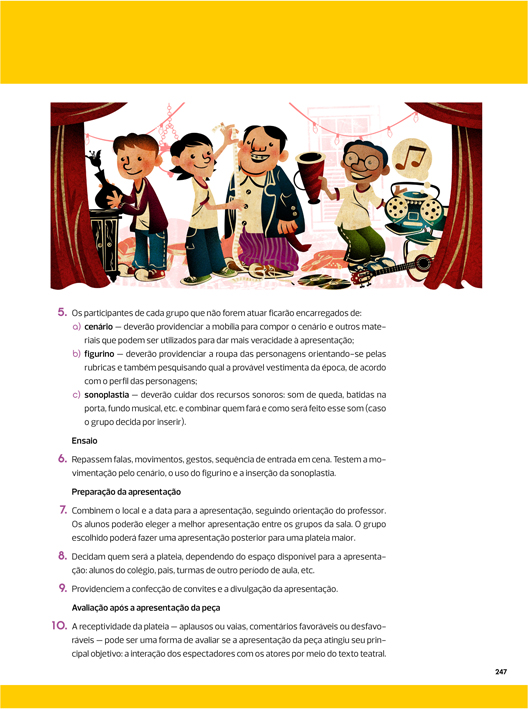 Mais ilustras:
silbachstation.com (em Português)
Para curtir:
Facebook
Para seguir:
Twitter
Para ver:
Flickr
-------------------------------------
More illos at: silbachstation.com (in English)
Like:
Facebook
Follow:
Twitter
See:
Flickr
Marcadores: Didáticos, educational book, gallery 02, illos
Tweet