Spotlight: Thor + Odin + Loki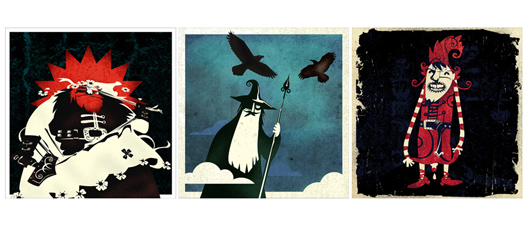 No
Spotlight
temos três ilustrações, um tríptico com os deuses nórdicos:
Thor
,
Odin
e
Loki
. Eu sempre quis desenhar esses três e finalmente surgiu uma oportunidade!
-------------------------------------
In the

Spotlight

we have a triptych with the Norse Gods:

Thor

,

Odin

and

Loki

. I always wanted to draw those three and an opportunity came at last!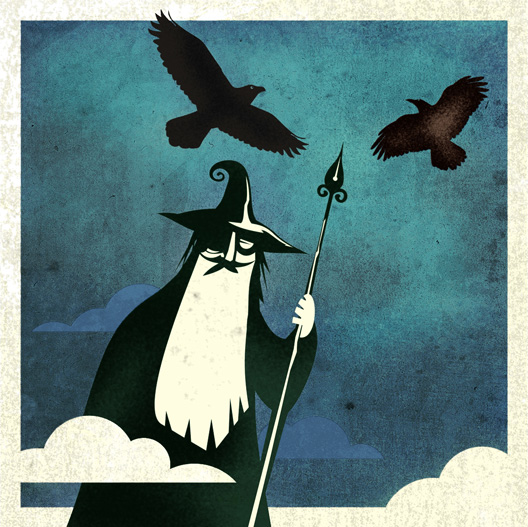 Odin
, acompanhado pelos corvos Huginn e Muninn. Aqui ele aparece no disfarce de "Andarilho", de barba comprida, chapéu e cajado. Na hora de desenhar o cajado, fiz com que se parecesse mais com a lança Gungnir. Como Odin é considerado o pai da escrita (ele descobriu as runas), achei que seria interessante que a ponta da lança se parecesse com a ponta de uma pena de escrever.
-------------------------------------
Odin

- with his pair of ravens Huginn and Munnin - disguised as the "Wanderer" with long beard, hat and staff. I made the staff to look more like Odin's spear Gungnir and since Odin is related to the writing form (he discovered the runes) I thought it would be interesting to make the spear tip to look like a pointed nib.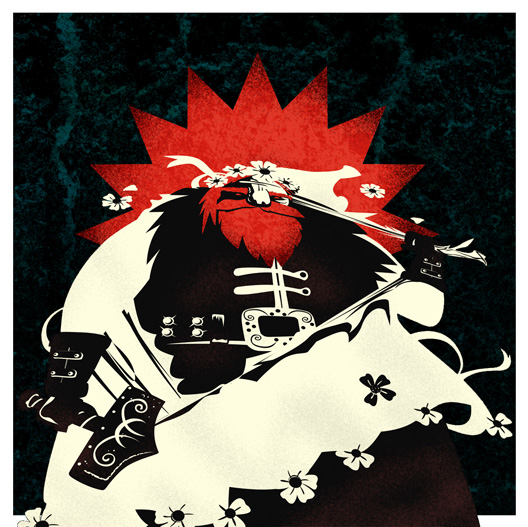 Thor
, o deus do trovão. Existem muitas possibilidades de desenhar Thor, mas era importante que aprecessem suas três mais importantes possessões: Jarngreipr (as luvas Luvas de Ferro), o cinto Megingjord e, é claro, o poderoso martelo Mjollnir. Thor aparece de véu, grinalda e saindo de um vestido de noiva porque escolhi uma cena da história onde Mjollnir é roubado por gigantes. Thor precisa recuperar o martelo e o único jeito de entrar no reino dos gigantes sem ser detectado foi se disfarçando de noiva do Rei dos Gigantes. Nesse retrato, vemos Thor no momento em que ele recupera Mjollnir e revela sua verdadeira identidade. E logo em seguida encheu os gigantes de porrada. Você pode ler uma versão completa (em inglês) dessa história
aqui
.
-------------------------------------
Thor

, the god of thunder. There are many possibilities to depict Thor but it was important to showcase his three most important possessions: Jarngreipr (the Iron Gloves), Megingjord (the Power-Belt) and - of course! - the mighty hammer Mjollnir. Here, Thor is wearing a full wedding dress (with bridal head-dress) because it is from a scene of the "Theft of Mjollnir" tale. This is the moment when Thor recovers his hammer and reveal his true identity to the King of Giants. You can check a the complete tale here.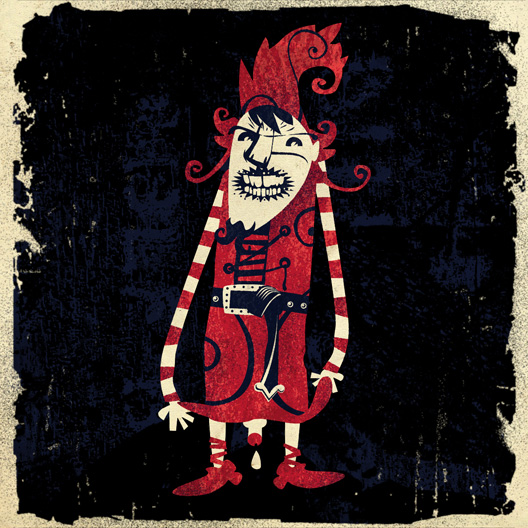 Loki
foi o mais complicado de retratar, como não podia deixar de ser... Tentei passar a qualidade de "outsider" de Loki, um personagem que está sempre criando problemas para os outros deuses de Asgard, por isso a roupa estranha, a pose não-dinâmica (se comparada com Odin e Thor) e a provocacão de levantar a túnica como se quisesse "estragar a foto". Quem possui familiaridade com a mitologia nórdica também vai reparar na boca com cicatrizes... Certa vez, Loki causou tanta confusão que costuraram sua boca. É um cara, no mínimo, desagradável. Aqui no blog você pode ver a versão "não censurada", tirem as crianças da sala! Ha ha ha :0)
-------------------------------------
Loki

was... well... the trickiest to portrait. He has an interesting scarred lips (Loki had his lips stitched up once). Since he is an "outsider", always creating problems and provoking the other asgardian gods, I choose to put him in those strange clothes and in a totally non-dynamic pose (if compared with Odin and Thor). And the obscene gesture of lifting his tunic and pissing on the floor, as if he's trying to ruin the "picture". He is a trickster, after all. Here you can see the "uncensored" version, so get the children out of the room! Ha ha ha! :0)
Labels: gallery 01, illos, spotlight
Tweet