Spotlight: Big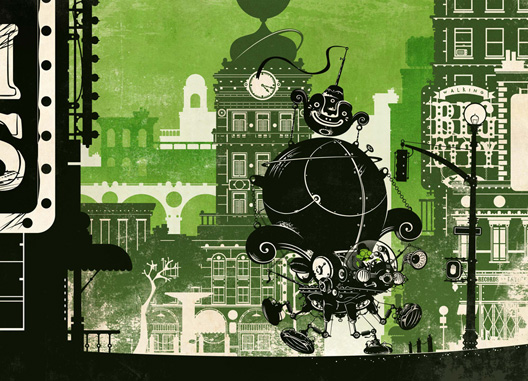 "Big"
é a nova ilustração em destaque no
Portfolio
. É parte da minha
série "Urban Walkers"
, esses veículos mecânicos de quatro patas que levam as pessoas de um lugar a outro na cidade.
-------------------------------------
This month Spotlight features "Big": the newest illustration from m Portfolio. This illo is also part of my "Urban Walkers" Series: Mammoth sized mechanical vehicles that roam around the city.
E mais...
"Big"
é também a capa do meu mais novo sketchbook produzido pela Schizzibooks, o terceiro da série de produtos ilustrados por mim.
Já está disponível no site da Schizzibooks!
Compre já... Porque os outros dois já estão esgotados! Logo, logo esses produtos vão virar ítem de colecionador, ha ha!
Mais ilustras:
silbachstation.com (em Português)
Para curtir:
Facebook
Para seguir:
Twitter
Para ver:
Flickr
-------------------------------------
And there is more...! "Big" is also the cover of the newest sketchbook made by the good folks from Schizzibooks! Is now available at Schizzibooks on-line store. Buy now... Because the previous products are sold out and "Big" is selling fast! It will soon become a collector item, ha ha!
More illos at: silbachstation.com (in English)
Like:
Facebook
Follow:
Twitter
See:
Flickr
Marcadores: capa, cover, gallery 01, illos, Schizzibooks, spotlight, urban walkers
Tweet