Quixote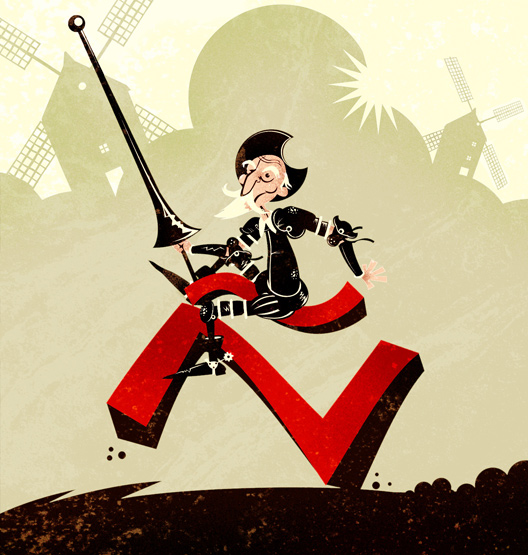 Todo nós temos heróis. Eu tenho um monte... E quando um cliente pede para desenhar um deles... É sempre um prazer!
Quixote
sempre me pareceu uma figura interessante, o visual, as aventuras e a loucura do personagem são pura lenda. Faz um bom tempo - mais de dez anos! - desde que li o livro de Miguel de Cervantes (li a versão completa, em dois volumes...) mas a história do "cavaleiro da triste figura" está vívida na minha cabeça. Publicado em 1605 (volume 1) e 1615 (volume 2) com o objetivo de ridicularizar os romances de cavaleiros andantes, Don Quixote também marcou o nascimento da literatura moderna. O livro é bom demais! Quanto à ilustração acima, o briefing pedia uma imagem que representasse a letra eñe - esse "ene de bigode" que tem a mesma função do "nh" em Português - e seu papel como símbolo da Língua Espanhola.
Esse meu Don Quixote foi criado para um livro didático de Língua Espanhola, publicado pela Editora Ática.
-------------------------------------
We all have heroes. I have quite a few. And when a client asks me to draw one of my heroes... Oh, boy! It's always a pleasure! I always saw Quixote as an irresistible figure... You see, his look, his adventures and - of course - his madness are stuff of legends. It's been a long time since I read the book by Miguel de Cervantes (I read the unabridged version, in two volumes...) but the tale of the "knight of the sad countenance" is still fresh in my memory. The book was the beginning of the modern literature and its English translation also gave us these expressions: "sky's is the limit", "forgive and forget", "thanks for nothing", "you've seen nothing yet" and many, many others... Yes, this book it's that good!

This Don Quixote was created for a educational book - Spanish lessons - published by Ática House.
Marcadores: Didáticos, educational book, gallery 01, illos, spotlight
Tweet