Fun Fun Fun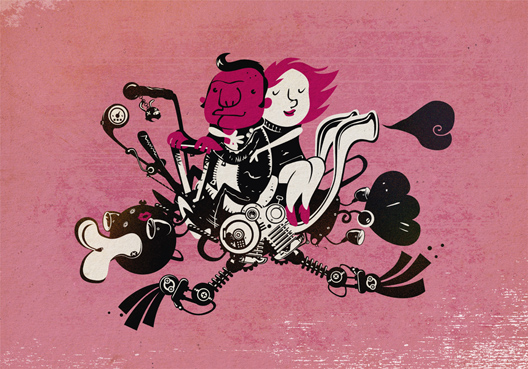 Não tem muito tempo desde que passei a ser conhecido também como o "Pai da Sofia", mas ser pai de uma menina já está mostrando suas influências...
"Fun Fun Fun"
é parte da série "Bird-Bikes" (junto com
Yellow Gentleman
e
Dusty
) e apresenta uma tonalidade cores, digamos, "de menina"... O que, no fim das contas, me surpreendeu...! Quando eu fiz os primeiros esboços de "Fun Fun Fun", eu não estava pensando em usar rosa ou magenta, mas isso foi meses antes da minha filhota nascer... Apesar da ilustra não ser uma ilustração de menina, as "cores de menina" transformaram a garota na garupa do Bird-bike na verdadeira protagonista da cena. Ela está se divertindo, fugindo com o namorado, curtindo a vida. Essa imagem é por causa dela. Talvez não pareça, mas é ela quem manda.
-------------------------------------
It's been a few weeks since I became father of a baby-girl and known as "Sofia's Dad", but parenthood is already showing it's influence on my work...

"Fun Fun Fun" is part of the "Bird-Bikes" Series (along with Yellow Gentleman and Dusty) and features a lot of "girlie" colors... Which was a little surprising to me! You see, when I made the first sketches of "Fun Fun Fun" I was not thinking about using pink or magenta at all, but this was months before my baby daughter's birth... I realized that although this illo is not exactly a girlie illustration, the "girlie colors" transformed the girl on the bird-bike into the real protagonist of the scene. She is having fun, running away with her boyfriend, just enjoying life. This image it's all about the girl. Maybe it doesn't look like but, believe me, she is in charge.
Labels: bird-bikes, gallery 01, illos
Tweet