Os Carrapatosos | The Carrapatosos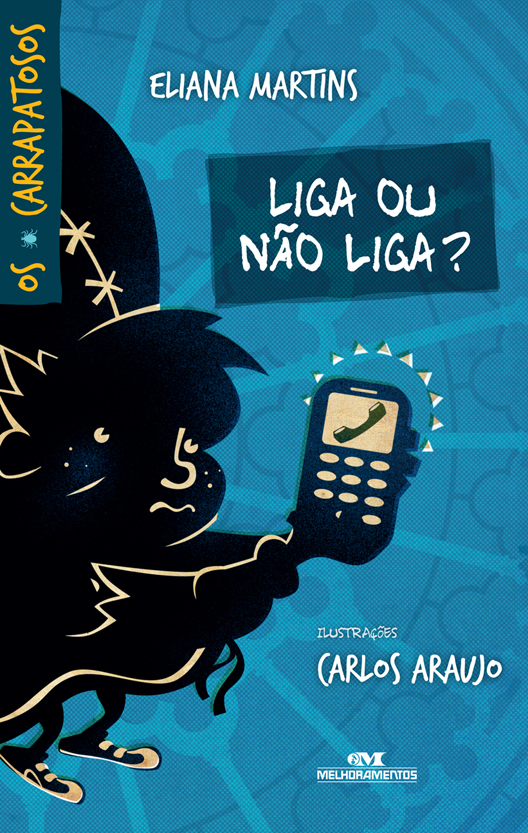 Já está disponível o o primeiro livro da série
"Os Carrapatosos": "Liga ou Não Liga?"
da autora Eliana Martins. São histórias, narradas por Rita Carrapatoso, a filha mais nova, que envolvem autores e personagens dos livros clássicos (nesse caso, o Corcunda de Notre Dame) e o cotidiano da família Carrapatoso.
A descrição trama de "Liga ou Não Liga" (
do site da Editora Melhoramentos
):
"Alguma coisa estava errada. Jorginho vivia calado, ensimesmado e bastante misterioso. Seu comportamento atípico começava a intrigar a família Carrapatoso.
Mas o que poderia estar acontecendo com Jorginho? Estaria apaixonado por alguém do colégio? Quando sua irmã, Rita, decide investigar o caso, acaba tornando-se o cupido de uma história de amor. Para ajudar o irmão, Rita conta com a avó Alice, experiente leitora que se baseia na obra O Corcunda de Notre Dame, de Victor Hugo, para falar das coisas do coração.
No final das contas, será que Jorginho conseguirá vencer o medo e a timidez e transformar seu amor platônico em realidade?"
Abaixo algumas das artes que criei para o livro...
-------------------------------------------------------------------------------------------
This is the first book of a new series titled "The Carrapatosos", published in Brazil by Melhoramentos. Written by Eliana Martins and illustrated by me, the book is a story - about family tragicomic situations and classics of literature (in this case, the Hunchback of Notre Dame) - told from the point of view of the spunky and lovely younger daughter Rita Carrapatoso.
The plot (as presented by the publisher):
"Something is wrong. Jorginho is unusually quiet and introspective. His antics were starting to get on the Carrapatoso family nerves.
But what could the reason behind Jorginho's mysterious behaviour? Do he have a crush on someone at school? When his younger sister - Rita - decides to take matters into her own hands she inadvertently takes the role of the Cupid in a unsuspected love story. To help her big brother, Rita seeks the wisdom of her grandmother Alice. The old woman is a wise and avid reader that uses the Hunchback of Notre Dame story by Victor Hugo as a way to explain to her granddaughter the matters of the heart.
But when all is said and done, will Jorginho overcome his shyness and fear of rejection to be able to turn his platonic love into a real one?"
Bellow you can check some of the illustrations created for the book.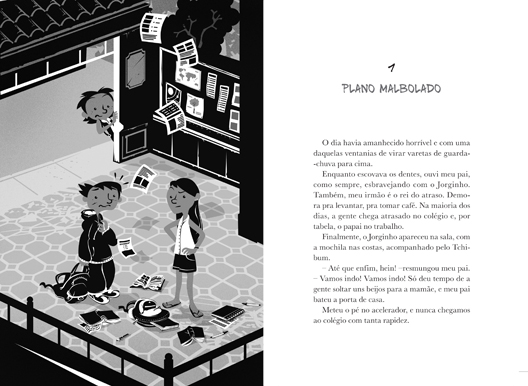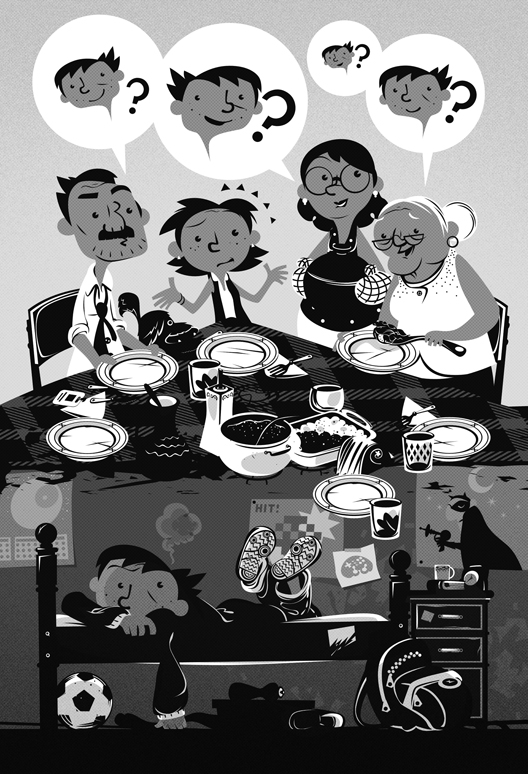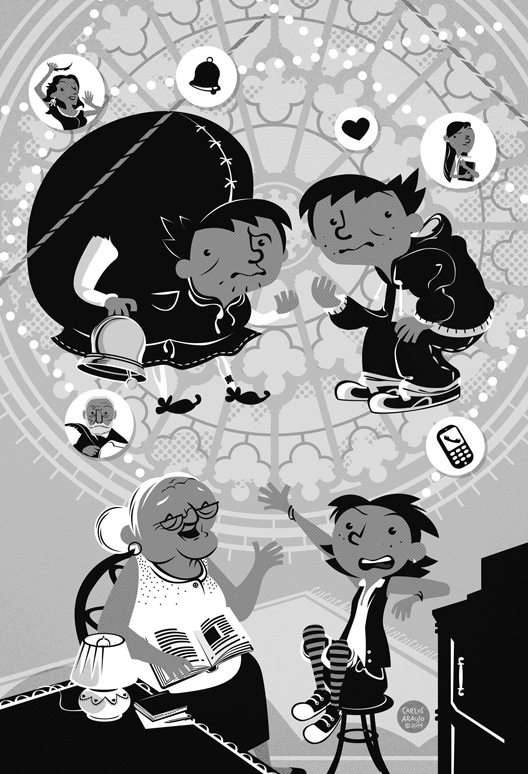 Trabalhar nesse projeto foi incrível, tive muita liberdade para criar em cima do texto e "dar uma cara" para os personagens. Ao criar o design da Família Carrapatoso, dois aspectos me serviram de guia: Primeiro, meu objetivo era criar personagens que pudessem dialogar e enriquecer o texto original. Fui anotando os pequenos detalhes - uma breve descrição numa página, um comentário bem humorado em outra - para, a partir deles construir cada personagem. Em segundo lugar, o personagem não deveria apenas possuir um visual que parecesse correto, mas que também pudesse combinar e articular com o visual dos demais personagens (membros da família e amigos).
-------------------------------------------------------------------------------------------
Being able to illustrate this project was an incredible experience as I had total freedom to create from the story by Eliana Martins and give each character a face and a distinct visual. When working on the characters design my two main goals were: To create characters that could enrich the original text. And to give to each member of the Carrapatoso family the - just right - design that could inform their personalities and bring them visually to life.
Outra característica desse projeto é que foi necessário criar as ilustrações do interior do livro todas sem o auxílio de cores. Foi uma grande oportunidade explorar as possibilidades de criar cada cena sem o apoio usual de cores e texturas que podem ser vistas em outros trabalhos meus. Deixaram as artes com um jeitão "unplugged", sei lá...!
-------------------------------------------------------------------------------------------
Another unusual thing... Since the book is printed in black and white, all illustrations were grayscale. I saw it as a great opportunity to explore the possibilities of creating each scene without the familiar support that comes from using colors and textures. In the end each illo shows this "unplugged" vibe that I really like...!
Cada história na série "Os Carrapatosos" é tirada do álbum de recordações da personagem Rita. Foi uma diversão sem fim criar os pequenos detalhes de cada cena...! Por exemplo, o quarto misteriosos com todos os objetos espalhados, os posters na parede e os objetos debaixo da cama, a carteirinha da escola, a foto da Rita com a melhor amiga na frente da roda gigante...
-------------------------------------------------------------------------------------------
Each story of "The Carrapatosos" series are actually the annotations made by the character Rita in her memory book. I had so much fun creating the small details in each scene: The "room of doom" with all the objects scattered, the posters on the wall, the objects under the bed, Rita's school ID card, the photo of Rita and her best friend hanging out...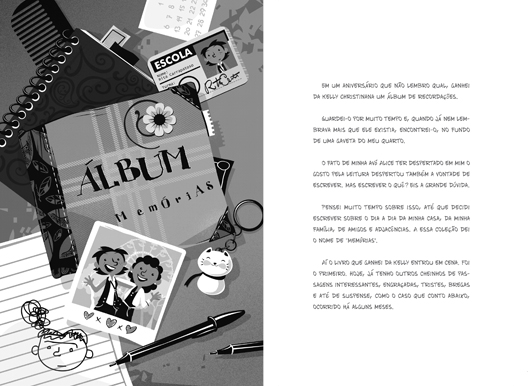 Para encerrar, a imagem em destaque no portfolio e capa do livro. Uma imagem dupla que envolve todo o livro. A orientação era criar uma capa que fosse algo misteriosa, testei várias possibilidades até sugerir essa solução usando a silhueta do Jorginho transformado em corcunda. Se ele vai ligar ou não para a garota que ele gosta o leitor só vai saber depois de terminar o livro.
"Liga ou Não Liga?"
(Editora Melhoramentos, 88 páginas) já pode ser encontrado nas livrarias...!
-------------------------------------------------------------------------------------------
Last but not least, you can see bellow the full illustration for the cover. A wraparound cover featuring the character Jorginho transformed in a hunchback (as he deals with his fear of rejection). Will he finally call the girl he loves...? Let the reader find the answer (of course)... The Carrapatosos are here!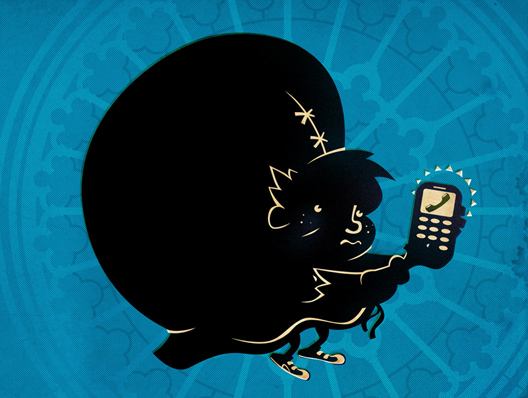 Mais ilustras:
silbachstation.com (em Português)
Para curtir:
Facebook
| Para seguir:
Twitter
| Para ver:
Flickr
-------------------------------------------------------------------------------------------
More illos at: silbachstation.com (in English)
Like:
Facebook
| Follow:
Twitter
| See:
Flickr
Marcadores: books, capa, cover, gallery 01, illos, Os Carrapatosos, spotlight
Tweet