Top 10 Thumbs

Já passou um mês desde que incluí no site a funcionalidade Thumbs Up, que permite que o visitante diga se gostou de uma imagem no portfolio. Após esse tempo, os dados colhidos já permitem ter uma idéia de quais as ilustrações são as mais populares. Até o momento, os votos estão bem distribuídos entre todas as imagens do portfolio...
-------------------------------------
It's been a month now since the debut of the Thumbs Up button! Allowing users to give Thumbs Up to their favorite images from my portfolio, I can have an idea of which images are more interesting to the visitors. Right now the number of Thumbs Up each image received is very close to each other...
Obrigado a todos que dedicaram um tempinho para indicar suas imagens favoritas! Fiz abaixo um quadro com as "10 Mais do Mês".
Many thanks to everyone who gave thumbs up to their favorite illustrations! Bellow, you can see a "Last Month Top Ten" list: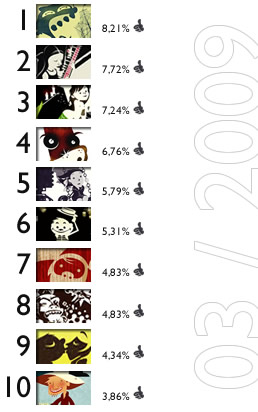 Cada imagem no portfolio tem um botão com um "?" no canto superior direito. Se você gostar da ilustração, clique no botão "Thumbs Up" e pronto!
-------------------------------------
Each image in my on line portfolio has a small button on the top-right corner (showing a hand and a "?"). Whenever you see a illustration that you like, you can tell me by clicking the Thumbs Up button.
Marcadores: Top 10 Thumbs
Tweet