De2ign Headers!

Nessa semana descobri um site muito legal chamado
De2ign
. Bom... Na verdade, eles é que me descobriram, publicando um
post super bacana
sobre o "Dollaritos" e o meu trabalho. A Barbara Formagio e Thiago Mano - responsáveis pelo De2ign - também me convidaram para participar do site com duas imagens para o header.
Em cada página, o header está presente em todas as páginas do site, alternando
randomicamente entre as obras dos artistas convidados.
Show de bola
!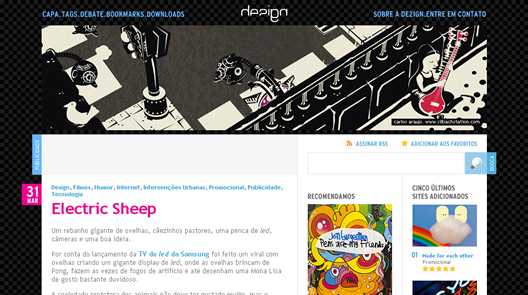 This week I found this really cool web site called

De2ign

(In portuguese only... Sorry!). They posted a sweet article about me and my "Ten Dollaritos Bill" paper toy. The editors - Barbara Formagio e Thiago Mano - also invited me to contribute to their site creating two images to be displayed in the De2ign pages header. Check it out! Even if you don't speak portuguese, at least you are going to see some really nice headers...
Marcadores: news
Tweet